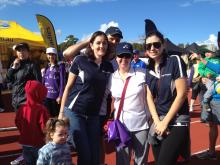 WMD Law are active participants in this event, having raised over $14,200 in our past two years of involvement. We are participating again in 2013. We will be walking the track with members of staff and family for the entire 24 hours in 2013.
Relay for life is a global fundraising event for the local cancer councils all over the world, spanning more than 600 communities in 21 countries. It is a great community event and is the major annual fundraising event for the NSW Cancer Council, which is involved in cancer research.
For more information, or to sign up or donate, please visit the relay for life website at http://www.cancercouncil.com.au/.
Subscribe to the WMD Law Newsletter
Stay in touch with the latest legal news and legislative changes that
impact you by subscribing to our legal newsletter. It's delivered to
your in-box every month and is always packed with interesting articles
prepared by our legal team.